It's time to get your RedShirt® Benefit Review
Independent Health is ready to provide assistance and expertise to Western New Yorkers during this year's Medicare Annual Enrollment Period
BUFFALO, N.Y. (October 2, 2023) – As a way to make sure Western New Yorkers choose the Medicare Advantage plan that's right for them in 2024, Independent Health will be providing personalized, one-on-one plan reviews during this year's Medicare Annual Enrollment Period, which will run from October 15 to December 7.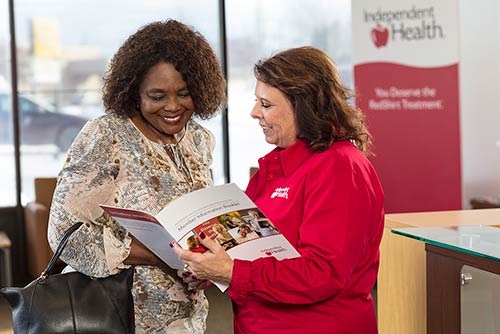 "With the Medicare Annual Enrollment Period almost upon us, now is the time to start evaluating all of your Medicare medical and prescription drug coverage options for 2024," said Cathy Aquino, Vice President of Sales, Medicare, Consumer and Small Business Markets, Independent Health. "As Western New York's only health plan to achieve a 5-star rating on all Medicare Advantage plans1, Independent Health encourages everyone to get their exclusive and personalized RedShirt® Benefit Review before making any decisions about their 2024 health care coverage. This will allow us to help you better understand what plan is best for your unique needs and budget."
Meet face-to-face with a RedShirt®
Independent Health members and non-members alike are invited to visit one of Independent Health's five year-round Medicare Information Centers or temporary walk-in locations that are conveniently located throughout Western New York, including two in the City of Buffalo2. A friendly and knowledgeable RedShirt will meet with them one-on-one to review their plan options and discuss all the exciting Medicare Advantage plans and enhanced benefits that Independent Health will be offering for 2024.
"From Niagara County all the way down to the Southern Tier, we're ready to provide Western New Yorkers with the personalized attention they deserve so that we can show them how to get the most out of their plan benefits and answer any Medicare-related questions they may have," said Aquino. "Plus, they will be entered to win one of four $250 Tops Gift Cards in a random drawing3 by simply talking with a RedShirt during the Medicare Annual Enrollment Period."
For those interested in enrolling with Independent Health, appointments are encouraged for in-person RedShirt Benefit Reviews. To see where a RedShirt is located in your neighborhood, visit www.IndependentHealth.com/FindARedShirt. Please note: Current Independent Health Medicare members who stop by the Medicare Information Center at 620 Dick Road in Cheektowaga may also be able to participate in live health and wellness classes as part of our onsite Health Hub.
If you would prefer to speak with a RedShirt by phone, please call (716) 635-4900 or 1-800-958-4405 (TTY users call 711), Monday through Sunday from 8 a.m. to 8 p.m.
Low-cost plan options and $0 benefits for 2024
In looking ahead, Independent Health will continue to offer a variety of Medicare Advantage plans and benefits that are designed to meet our members' specific needs. For example:
New for 2024, Independent Health will offer a $10 PPO plan with an expanded national network and coverage, including routine care when you are outside of Western New York. This new plan is perfect for snowbirds and people who travel frequently.
New for 2024, most of our plans will include comprehensive dental coverage with up to $2,000 for in-network services. 4

Independent Health will once again offer $0 premium plans both with and without prescription coverage (including one with a give back).

Our plans will feature many $0 benefits that are designed to help our members get and stay healthy all year long, including $0 eye coverage, a $0 gym benefit and $0 copay for primary care physician visits.5
Members will be able to earn up to $100 in RedShirt Rewards for taking healthy actions. New for 2024, the rewards can then be redeemed as a gift card of their choice from participating retailers.
"By choosing Independent Health, not only can you count on our locally-based team of RedShirts to always provide you with best-in-class service, support and expertise, you will also receive the affordable coverage and great benefits that we has been delivering for years," said Aquino. "If you are currently an Independent Health member and happy with the Medicare Advantage plan you are enrolled in, you don't have to take any action. We will automatically renew you for 12 months. It's just one of the ways we make Medicare easier for our members."
For more information about Independent Health's 2024 Medicare Advantage plans, visit www.IndependentHealth.com/Medicare.
Independent Health is a Medicare Advantage organization with a Medicare contract offering HMO, HMO-SNP, HMO-POS and PPO plans. Enrollment in Independent Health depends on contract renewal. This information is not a complete description of benefits. 1Every year, Medicare evaluates plans based on a 5-star rating system. 2A sales person will be present with information and applications. For accommodations of persons with special needs at meetings, please call (716) 635-4900 or 1-800-958-4405 (TTY: 711). 3Eligible for sweepstakes entry without obligation to enroll. Limit one entry per person. 4Limitations, cost sharing and restrictions may apply. Benefits and/or copayments/coinsurance may change on January 1 each year. Independent Health's Medicare Encompass 65® Edge HMO plan includes preventive dental coverage only. 5Must use network providers. Limitations may apply.
Y0042_C9417_M 10012023
Look back on our past press releases and news stories.