MyIH App
Access and Manage your health tools and benefits
ID Card
Display your member ID card quickly
Deductibles
Track your plan and status, at a glance
Get Care
Find doctors, specialists, and urgent care in your network

Benefits
See what's covered on your plan
Claims
View your claims status, details and history
Safe and Secure
Securely access your personal information

Access Your ID Card
Access a digital image of your member ID card for use at appointments or whenever needed.
Track your Deductibles
Check your status and always know where you stand in meeting your deductible.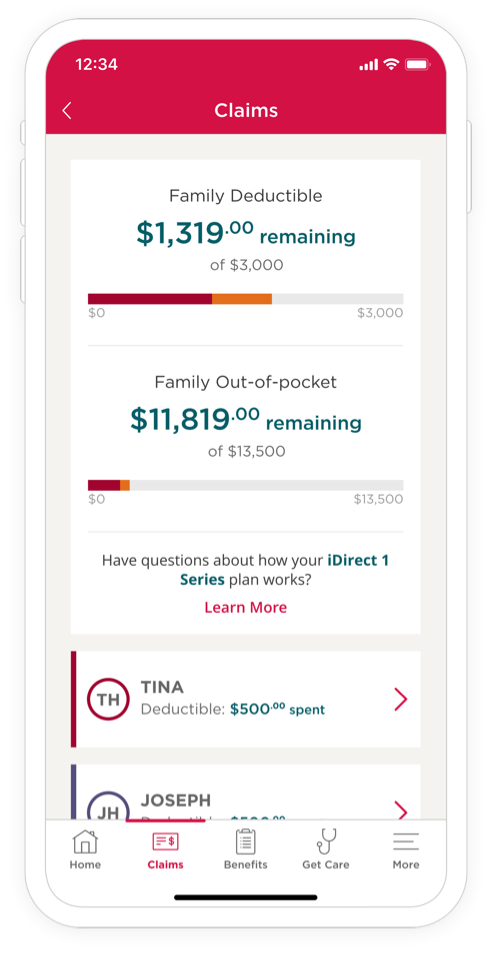 Review Your Benefits
View plan details, benefits, and coverage for you and your family.
View Your Claims
Check on the status of claims for your account – including provider details, cost share and more.
Frequently Asked Questions
Dedicated to helping our members get and stay healthy. And when you have questions, we have answers.

That's the RedShirt® Treatment.
How do I access and log in to the MyIH mobile app?
Independent Health members must first register for a member account using the Register link on the Independent Health website, or from the MyIH mobile app log in screen. It's easy to register. You just need your member ID number from your ID card. You'll also need to validate your personal information. Once registered, you will be able to use the same log in on IndependentHealth.com or on the MyIH mobile app to access your personal account information.
Can I use the MyIH mobile app if I am a PBDRx member?
Unfortunately, PBDRx only members are not able to access the MyIH mobile app. You'll need to register and log in online through the website portal.
I am unable to see some features listed in the app.
Your app delivers features specific to your plan and eligibility. If you do not see a feature, either that feature is not eligible with your health plan, or the mobile app does not currently support that feature with your plan type. If you need help, contact a RedShirt.
Is the MyIH mobile app secure?
Yes. Your personal health information is always secure, whether you access your member information using the Independent Health website, MyIH mobile app or Amazon Alexa skill. The MyIH mobile app does not store your information on your device, unless you choose to download or share information from the MyIH app to your device, such as sharing your member ID.
What are Independent Health's policies regarding member privacy and security?
Independent Health values the relationship we have with our members and are committed to protecting your information using industry best practices. Read more about how we are protecting your privacy and information.
Apple® and the Apple logo® are trademarks of Apple Inc., registered in the U.S. and other countries. App Store® is a service mark of Apple Inc. Android™ and Google Play store™ are trademarks of Google Inc.
Available now from the App Store and Google Play