Independent Health is WNY's only 5-Star Rated Medicare Advantage Plan for 2024
All of Independent Health's Medicare Advantage Plans once again awarded 5 Stars by the Centers for Medicare and Medicaid Services
BUFFALO, N.Y. (October 16, 2023) – For the second year in a row, Independent Health is the only health plan in the nation to earn 5 stars from the Centers for Medicare and Medicaid Services (CMS) for its entire Medicare Advantage product portfolio – Medicare HMO plan, Medicare PPO plan and Medicare Prescription Drug Plan (PDP).* The Williamsville-based company is also the only Western New York insurer to be recognized as a 5-Star Rated Medicare Advantage Plan for 2024 in the eight county service area.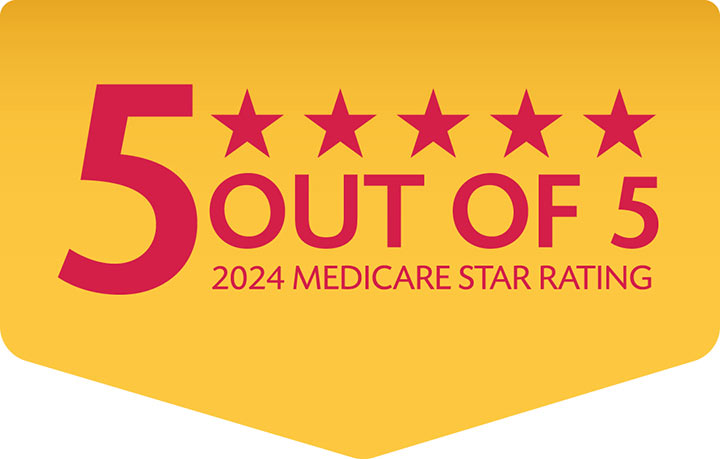 The Medicare Star Ratings are designed to help people assess the quality, value and performance of every Medicare Advantage plan throughout the nation. As a 5-Star Rated plan, Independent Health is the only Western New York plan that will be able to enroll Medicare beneficiaries in its Medicare Advantage plans throughout the entire 2024 calendar year.
According to Cathy Aquino, Vice President Sales, Medicare, Consumer & Small Business Markets, Independent Health, the 2024 Medicare Star Ratings serve as a helpful and unbiased way for Medicare beneficiaries to objectively compare their medical and prescription drug options during this year's Medicare Annual Enrollment Period, which runs from October 15 through December 7.
"Independent Health's 2024 Medicare 5-Star Rating is a testament to our collaborative efforts with health care providers to ensure our members receive the care they need, as well as our long-standing commitment to providing our members with the personalized support and one-on-one attention they deserve," said Aquino.
This also marks the third consecutive year that Independent Health's subsidiary, Pharmacy Benefit Dimensions (PBD), has received a 5-Star Rating for its Medicare Employer Group Waiver Plan (EGWP) PDP. In fact, it's one of only two PDPs in the nation to be awarded 5 stars for 2024. PBD partners with employers and union groups to offer its EGWP PDP to Medicare-eligible retirees and covered Medicare-eligible dependents beyond the standard benefits typically offered by other Medicare PDPs.
How Medicare Star Ratings work
By using a 5-Star Quality Rating System, with 5 stars being the highest rating, CMS measures Medicare beneficiaries' experience with their health plans and the health care system on an annual basis. Each plan is given an overall summary rating based on how it performs across five main categories:
Staying healthy: How often members got various screenings, vaccines and checkups.
Managing chronic conditions: How often members got certain tests and treatments for long-term conditions.
Health plan responsiveness: Overall member satisfaction with the plan.
Complaints and appeals: How often members filed complaints about the health plan.
Telephone customer service: How well the plan handles member calls.
This latest 5-Star rating from CMS culminates an impressive year of national recognition that has been bestowed upon Independent Health for all its lines of business.
Independent Health is one of only two Commercial health plans in the entire nation to achieve the highest possible 5-Star rating for clinical quality and member satisfaction, according to the National Committee for Quality Assurance's (NCQA) Commercial Health Plan Ratings 2023. NCQA is a private, non-profit organization dedicated to improving health care quality.

Independent Health recently achieved Tier 1 Status in the New York State Department of Health's (NYSDOH's) Medicaid Managed Care Incentive Program. This program focuses on the performance in quality and member experiences of health plans. Independent Health's overall score was the highest among all participating health plans throughout New York State.
"Our deep roots in Western New York are only matched by our deep commitment to this community. Providing our members with the highest quality coverage and customer service is part of our DNA – it's the RedShirt® Treatment," said Michael W. Cropp, M.D., President and CEO, Independent Health. "Combined with the strong relationships we have built with our physician and provider partners, we've been able to make it easier for all our members to receive the coordinated care and services they need to better manage their health and well-being."
Independent Health is a Medicare Advantage organization with a Medicare contract offering HMO, HMO-POS, HMO-SNP and PPO plans. Enrollment in Independent Health depends on contract renewal. *Every year, Medicare evaluates plans based on a 5-star rating system. Based on 2024 Medicare Star Ratings data as of 10/16/2023 at https://www.cms.gov/Medicare/Prescription-Drug-Coverage/PrescriptionDrugCovGenIn/PerformanceData
Y0042_C9438_C
Look back on our past press releases and news stories.